Laser Treatments
830Laser Pain Relief
The ML830 Laser has proven to be effective as a successful treatment for a variety of aches/pain, injuries, wounds, fractures and neurological conditions. As experts in pain relief, we recommend our non-invasive breakthrough technology. Our laser therapy is versatile, convenient and effective while producing safe, significant results. Even if you have not had success with other treatments this program is for you. We address the root cause rather than merely treat the symptoms. This results in a more long-lasting relief and is highly effective in preventing a recurrent problem. Our advanced hands-on techniques will promote a fast recovery and may help conditions where all previous therapies have failed.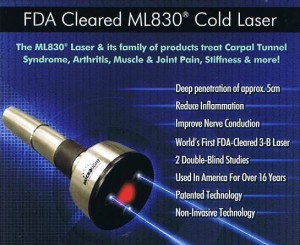 Benefits of Our Laser Program:
• FDA approved laser therapy which decreases pain and increases your body's own healing process.
• Reduces inflammation.
• Drug-free treatment for control of pain.
• Improve your overall ability to do daily activities.
• Avoid lingering effects of injury.
• Reduce the risk of re-injury.
• Start seeing immediate results.
• Faster recovery period.
• Learn how to avoid future problems.
• Increased flexibility & movement.
• Effective state of the art equipment at an affordable cost.
How long before benefits are realized?
Following a laser therapy session, approximately 75-80% of patients can notice an immediate improvement in their condition. The more chronic and severe the condition, the longer it takes to respond. The majority of conditions will take from 4-5 or 10-18 treatments.
25 minute session: $60.00
5 pack of 25 minute session: $250.00
10 pack of 25 minute sessions: $450.00
Foot Treatments
Foot Awakening
Weather permitting this treatment is done on the back terrace over-looking the scenic beauty of the lake. Enlighten your mind, body and soul through the soles of your feet. Treat your feet to additional benefits of a soothing scrub, hydrating foot mask, and a relaxing foot and leg massage. Enjoy this treatment with a tasty Cookie and Tea.
50 minutes $60.00
Vitalize Leg and foot Treatment
Similar to the foot awaking minus the moisturizing foot wrap. A great add-on or a quick spa treatment to revitalize your feet. We exfoliate and massage your feet to melt the stress from you.
25 minutes $40.00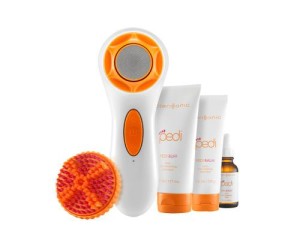 Clarisonic Pedi Sonic Foot Transformation Treatment
Add-on to any service
Designed to smooth and soften dull, rough feet at home or between professional pedicures, the Pedi Sonic Foot Transformation System combines expertly engineered tools with sonically designed formulations to counteract the factors that cause dry, rough patches. Feet – especially heels and
toes – become soft, supple and sandal-ready.
25 minutes $40.00
Body Scrubs
The exfoliating body scrubs are done on the wet table with your choice of our available body scrubs listed below.
Our Get Fresh SPA body exfoliators are a team of scrubs that will gently buff away all of your body's dry skin. If you are looking for a more mild body scrub, then our SPA Sugar Body Scrub is a sinfully luscious moisturizing and exfoliating blend of sugar, shea butter, olive oil and glycerin that will gently exfoliate your body each and every day. If on the other hand you are looking for something a little stronger, then our SPA Mineral Body Scrub will certainly do the trick as it polishes and smooths your dry skin with its Dead Sea salt and hydrating botanicals. Either way, we have the scrub that will get your skin looking and feeling soft, smooth and absolutely wonderful.
25 minutes for $55.00

Sugar Body Scrub – Black Currant
Sugar Body Scrub – Grapefruit
Mineral Body Scrub – Lemongrass
Mineral Body Scrub – Starfruit
Sugar Body Scrub – Blackberry Vanilla
Body Wraps
We start with dry brushing to stimulate the lymphatic system and prepare your skin for the hydrating and healing body butter by Getfresh spa products. We will let you select from our selections of Our Hydrating Body Butter with an exotic mix of antioxidants, botanicals, multivitamins, and tropical nut oils. This whipped creme wonder absorbs quickly, is never greasy, and leaves your skin supple and noticeably softer.
So you might ask what makes our Body Butters so hydrating? It's very simple; the secret lies in the emollient seed and nut oils that form the base of each blend. Our super intensive moisture cream will provide you with the ultimate hydration for your dry, depleted skin and bring it back to the soft, smooth feeling that you desire. After your skin in completely nourished we will finish with massage. With the 50 minute body wrap it is about 25 minute wrap and 25 min. massage and with the extended body wrap for 80 minutes. Your body will appreciate the extra time spent for your massage.
50 minute $75.00
80 minute $105.00
Choices for body butters

Hydrating Body Butter – Black Currant
Hydrating Body Butter – Grapefruit
Hydrating Body Butter – Lemongrass
Hydrating Body Butter – Starfruit
By purchasing these high-quality Spa products, you are joining with thousands of people across this country who, like you, would love to show their gratitude to our Wounded Warriors. We at Get Fresh are working towards helping these outstanding men and women by donating 10% of all sales (over 30% of profits) of Warrior Princess products to Veterans organizations like Healing4Heroes, a wonderful charity that helps our Wounded Warriors in their healing process.